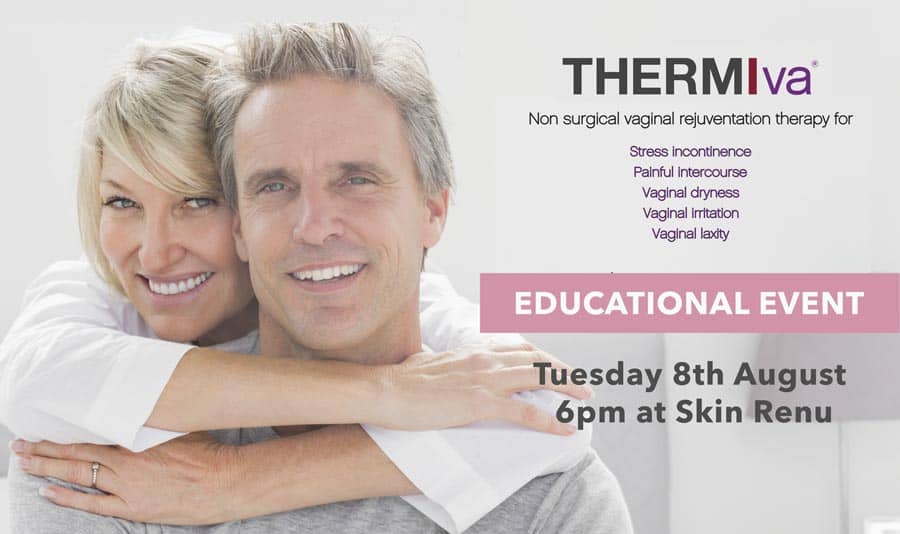 Stress incontinence • Vaginal dryness • Painful intercourse • Vaginal laxity
ThermiVa treats these conditions with no downtime and no anaesthesia
You are invited to this discreet information session at Skin Renu Balmain.
Everyone is talking about the benefits of ThermiVa non surgical vaginal rejuventation therapy. We have a ThermiVa info night coming up so you can find out more in a relaxed and discreet environment, with our famously delicious drinks and nibbles..
WHEN: Tuesday 8th August
TIME: 6pm – 7.30pm
WHERE: 16B Beattie St, Balmain
RSVP: by Friday 4th August.
email us or call 9555 9506 asap – numbers are limited
There will be a presentation by our expert RN and ThermiVa team leader Joely Thomas, with the opportunity to ask questions. A number of staff and patients who have had the treatment will be available to speak privately about their experience and answer any questions you may have.
I cannot believe the difference ThermiVa has made to my life, and that is without exaggeration.

I went through the menopause in my late forties.  My problems began after about eight years, it started with discomfort during intercourse with my husband and the discomfort gradually worsened to the point I had discomfort from even wearing pantyhose and tight jeans. Intimacy, an important part of my marriage and how I felt as a woman, was becoming almost an impossibility. After a clean bill of health from my GP and a diagnosis of "non-specific vaginal pain" I began to explore alternatives to the anti-depressants that were offered to help me!

I did my research and was given Skin Renu's details as a ThermiVa Clinic. Over the next 10 weeks I had my ThermiVa treatments. Three treatments 3-4 weeks apart as recommended. Joely looked after me and made me feel very comfortable during the treatments. She took the time to explain the process and made me feel at ease. The treatments were themselves, very comfortable.

I understand, loosely, the science of why ThermiVa worked, it was explained to me! What I understand are the results. All I can say is the discomfort has gone. There is no other way to say it but my vagina is working! It lubricates and I can be intimate again without the fear of suffering for days afterwards. I feel like me again.

These feelings and outcomes are not easy to speak about. However, since going through what I did and having ThermiVa and knowing there are probably many women who have similar issues I feel the need to pop my hand up and say, "It works and you don't need to put up with it!"