How To Deal With Dark Spots And Pigmentation
According to a top facialist 
As we head into autumn it's time think about the toll summer has had on our skin. While the sunshine is quickly fading, the havoc its rays play on our skin's health is far more persistent. We're talking about pigmentation, of course. Also commonly referred to as sun damage or hyperpigmentation.
"Your skin does not need to be burnt to develop pigmentation," says Sylvia Down, Practise Manager at Skin Renu Clinic in Sydney. "The sun's UVA and UVB constantly bathe our skin even as we go about our daily activities and has a cumulative effect."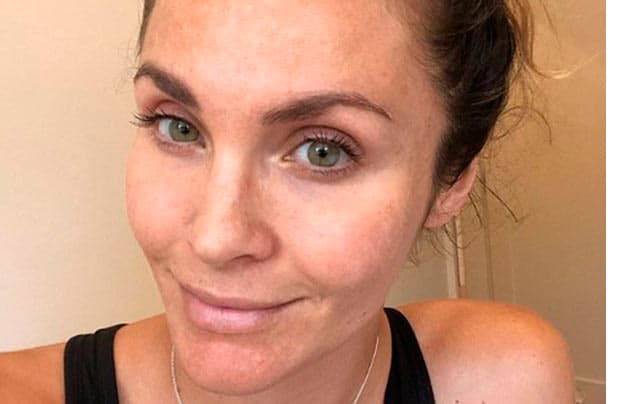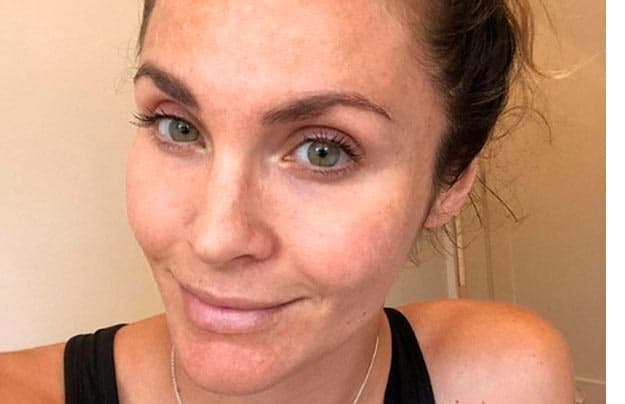 What is pigmentation? 
Hyper-pigmentation, generally referred to as pigmentation is a skin condition referring to darker spots or markings on the face and body. Pigmentation is a common problem experienced by both men and women of varying ages. Common types of pigmentation are
Freckles (ephelides)
Sun damage (solar lentigos/sun spots)
Melasma
Post-inflammatory pigmentation
"The origin of skin pigmentation is a reaction to the skin protecting itself against the action of the sun," advises Down. "While genetic, environmental and other factors can vary most pigmentation is caused by sun exposure so most Australians are likely to experience pigmentation."
Luckily, most types of pigmentation can be treated. Down advises that laser treatments can be effective in reversing the effects of sun damage adding that Clear+Brilliant Permea and Fraxel are particularly successful. "Treatments combined with clinically tested active product and good sunscreens and sun sense will greatly improve the appearance of pigment," she says.
Even skin tones, brightened illuminated skin will always appear more pigment free. Look after your skin's appearance and be sunwise

SYLVIA DOWN PRACTICE MANAGER
What is Fraxel? 
Fraxel is a type of non-invasive laser treatment used to improve the skin's texture, tone and clarity by encouraging it to repair itself. Technically, Fraxel should be accompanied by a registered trademark symbol—i.e. Fraxel® just like Botox®. That's because the Fraxel that we refer to is a particular brand of fractional lasers.
Down explains: "Fraxel's fractional laser penetrates the superficial skin layers stimulating the body's own healing process. Old damaged cells are replaced with new cells. The stimulation of collagen and the replacement of the damaged skin cells gives the skin a glowing radiance and smoother appearance, pigmentation is whisked away. This improved texture and tone and its illuminating effects make the skin look healthier and younger, from the inside out."
Active Ingredients
Vitamin C serum will help minimise the appearance of existing pigmentation and its topical application has been found to interfere with the production of free radicals. Try, Medik8 C- Tetra + Intense.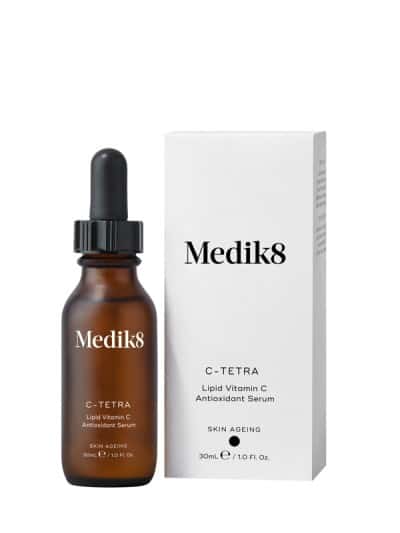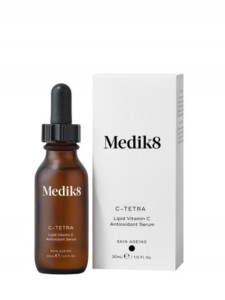 AHA/BHA gentle exfoliators one of the most important weapons in your armory as they will allow other actives to penetrate and work more effectively.