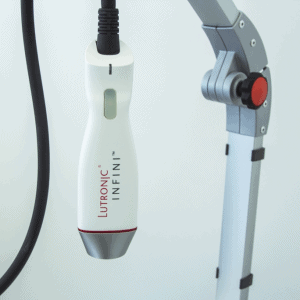 Infini™
Infini tightens your skin, rejuvenates and refreshes your complexion and says good bye to scarring.
3-Dimensional voluminization for skin tightening and scar remodelling for results you can see.
Infini combines two proven modalities, medical needling and radio frequency (RF) to stimulate collagen production creating a firmer, stronger and healthier complexion.
Clinically proven to increase collagen production Infini is suitable for all skin types and is the ideal treatment for
Skin tightening
Skin rejuvenation
Wrinkle reduction
Enlarged Pores
Scar revision
Photoaged skin
What is the Infini procedure?
Infini is a new technology that combines medical needling and fractional radio frequency to stimulate collagen, the building block of our skin. This creates a stronger skin structure returning volume, refining the skin's appearance and smoothing the complexion.
How does Infini work?
Infini uses gold coated micro-needles to deliver controlled thermal energy to specific layers of the dermis. This results in precise fractionated coagulation zones triggering the body's natural healing response, stimulating collagen production without damaging the upper epidermal layer of the skin. Protecting the upper layers of the skin means less downtime and a quicker visible results while the needles micro ablation of the skin's upper layers illuminates the complexion and improves its texture and tone.
How many treatments will I need?
Your treating doctor or Dermal Therapist will discuss your treatment goals and this will determine the number of treatments required. Generally, rejuvenation goals require between 2-4 Infini treatments 4-6 weeks apart and in the case of scarring more may be required.
What does the Infini treatment feel like?
Infini's ultra-fine gold tipped micro needles and patented ComfortFlow ™ technology minimizes discomfort. However, each individual's tolerance for pain varies and patient comfort is maximised with local anesthetic applied prior to treatment.
How will I look immediately after and how long before I can resume my day to day activities?
Infini's precise intra-thermal RF delivery with micro-fine needling eliminates thermal damage to the skin surface providing faster healing without downtime, and as a result lowers the risk of PIH (Post Treatment Inflammation, a cause of pigmentation in darker skin types) making Infini a suitable treatment for all skin types.
Post treatment the skin can appear flushed and red. A complimentary Omnilux is offered to all our Infini patients. This calms the skin, reduces the redness and speeds the healing process. Depending on your personal treatment level downtime can be as little as 12 hours.
These images provide a reference point for the results that can be achieved using this treatment, however, everyone is unique and results may vary.